Discounts & Payment Plan
Save Money on Your Silk Christmas Tree Skirt
My unique, hand-made Christmas tree skirts are expensive because I use:
Top Quality, Upholstery Grade Silk Fabrics from America's top fabric design houses

Unique Elegant Beaded, Sequined, Embroidered Decorations
Custom Designed or Premium Quality Lining Fabrics
Well-made Trims from America's best-known Fabric and Trim Manufacturers
You can save more money on your silk Christmas tree skirt if you take one or more of the following steps:
1) CHOOSE THE UNLINED OPTION and take $15 off. An unlined Tree skirt is slightly less expensive because it does not need as much fabric. However, the hem of the unlined tree skirt must receive a finishing treatment and that cost is factored in. Stitches made to hold the decorations in place will show on the backside of an unlined tree skirt. And, the backside of the fabric may not be attractive. Order a fabric sample to see both sides of the fabric you want.

2) COUPON CODE DISCOUNT FOR $35 OFF: To save money and make the tree skirt of your dreams affordable, use Coupon Code "ILC77" at checkout and get an additional discount of $35 off your order.
3) SELECT A DIFFERENT SIZE TREE SKIRT: Prices on the site are based on a Hexagon skirt 55" x 48". If I can make your hexagon, rectangular or square tree skirt with significantly less fabric yardage, you will save money. Custom size options can be selected in the Options menu. Or, contact me if you need a size not listed.

4) FLAT-RATE SHIPPING OF $10: will save you money. Most of my tree skirts cost between $20 and $35 to ship depending upon your location. To save you money, I am absorbing a part of the cost and only charging a flat rate of just $10.
5) Own an elegant, luxurious, hand-made in the USA silk Christmas tree skirt without straining your budget! Take the opportunity to purchase and spread payments from 2 to 4 months.
Take advantage of the discount plan and start your Layaway 2-4 months before November 1st. In other words, the four month payment plan should be started by the first week of July; three month plan by first week of August; two month plan by the first first week of September. Buying to give a custom-made silk Christmas tree skirt to your loved one? Here are a few tips to help you make the right choice.
Work on your tree skirt will begin after 1/2 of the total amount due is paid. When payment is completed, the item will be shipped. Please complete your Payment Plan on or before November 30 to get your tree skirt before Christmas. Use the special LAY-BUYS PAYMENT PLAN to space out your payments from 2- 4 months.
AFFORDABLE: Select the 2-Month, 3-Month or 4-Month Payment Plan at checkout.

SECURITY: Payments are processed within a secure environment. Use any major credit card and/or your Paypal account.

CONVENIENCE: Payments are automatically set up with no intervention unless a payment is missed.
FLEXIBLE: You can also change the length or amount of any pending payment. Prepay with no penalty.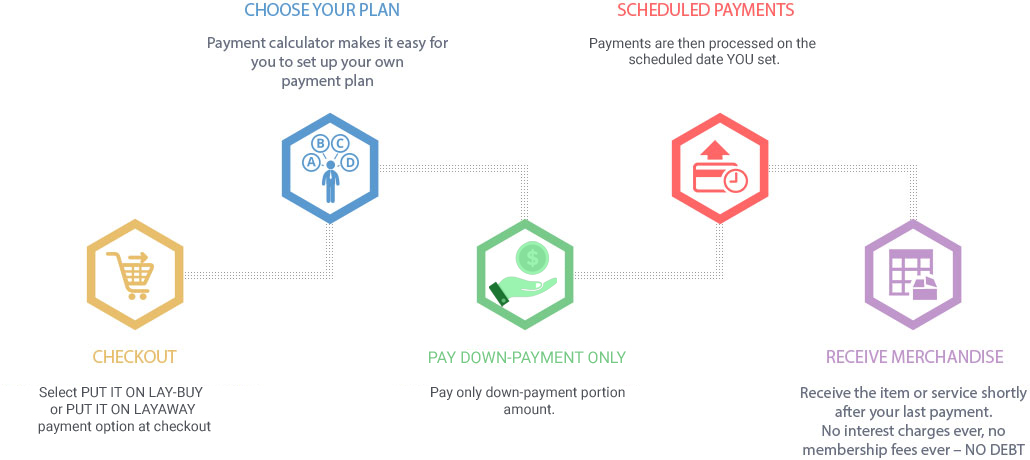 Questions about signing up for Lay-buys Payment Plan? More information is available about their process and services on the Lay-Buys website.
Just think, in a few weeks, the luxurious silk Christmas tree skirt that will add just the right touch to your holiday decorating can be yours! You will enjoy your luxurious, hand-made Christmas tree skirt for many years to come. :-)